Meet our Diesel Mechanics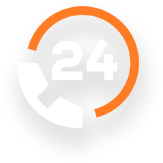 24/7 Diesel Maintenance, Repairs & Breakdown Services
Scheduled Fleet Maintenance Services
Workshop & Onsite Field Service Units Available
High-Quality Workmanship Guaranteed
Specialists in Earthmoving, Transport, Agriculture, Mining, Marine & More

Meet the Owner, Nic
Heavy diesel mechanic Nic, the owner and operator of All Fixed Diesels, started his career in diesel fitting in 2012 working for various Original Equipment Manufacturer (OEM) brands, including, but not limited to: Kubota, Vermeer and New Holland.
He opened the All Fixed Diesels mechanic shop and mobile roadside and on-site service in 2019. Ever since, he has been working relentlessly on the growth of the business.
Nic prides himself on the quality of his crew's work and their recent expansion into the earthmoving and plant hire sector.
"I am currently working on extending all of my staff's knowledge with auto electrics and hydraulics as a focus as I believe this is the way the industry will progress."
Hobbies / Interests
Nic loves to get out and about on bikes, head off into the bush for camping, or kicking back enjoying a brew or two.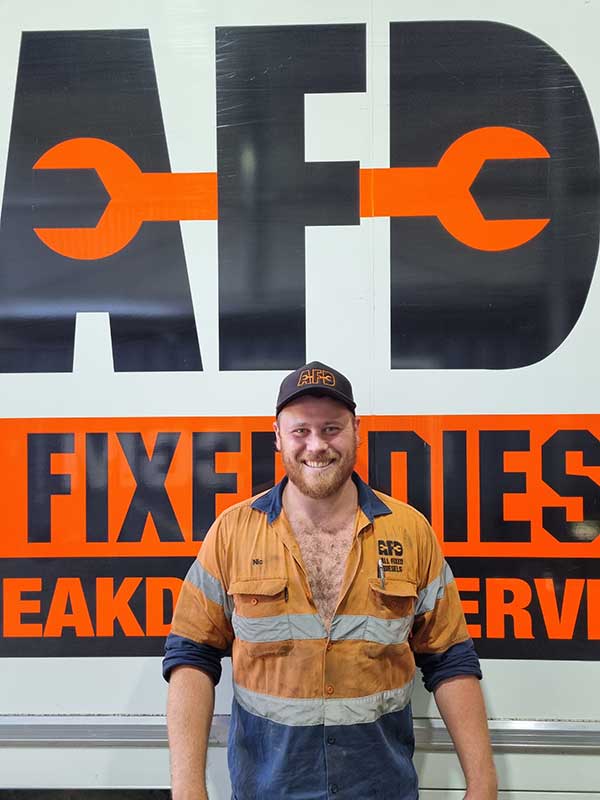 All Fixed Diesels Principal Accountant, Andrea
Andrea has been working in accounts for 30 years and started with All Fixed Diesels in 2021.
She heads our accounts department and is as qualified as she could possibly be for her role in the business.
Andrea loves a good challenge and gels well with the team who make an effort to make her feel welcomed, included and integral to the business' success.
Fostering an inclusive, positive environment is important to all the crew at All Fixed Diesels. Not only does this aid morale, but this also aids productivity and allows for effortless, positive collaboration.
Hobbies / Interests
Andrea loves to garden and enjoys the outdoors.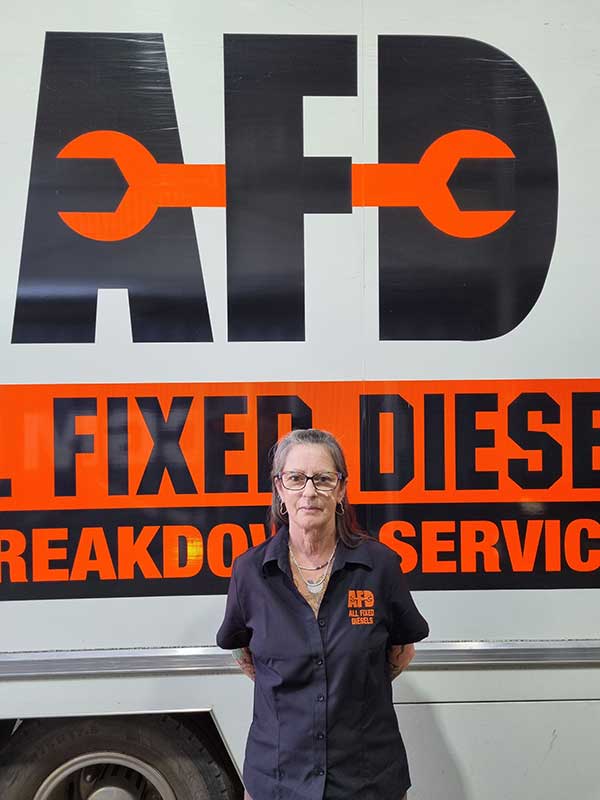 Diesel Specialist Ryan
Long-time Sunshine Coast local, Ryan, is our apprentice heavy diesel fitter (mobile plant) who started with us in 2019.
He is working towards a qualification in diesel fitting with a focus on hydraulics and electrics moving forward.
Ryan enjoys the industry because of its diversity and finds it compliments his passion for off-road motor sports, 4×4 driving, camping, and modifying vehicles.
What got you involved in the industry and what do you love about it:
"Being able to get machines running again, and the wide variety of machine types we work on."
Hobbies / Interests:
Sports
4wd driving
Fishing
Camping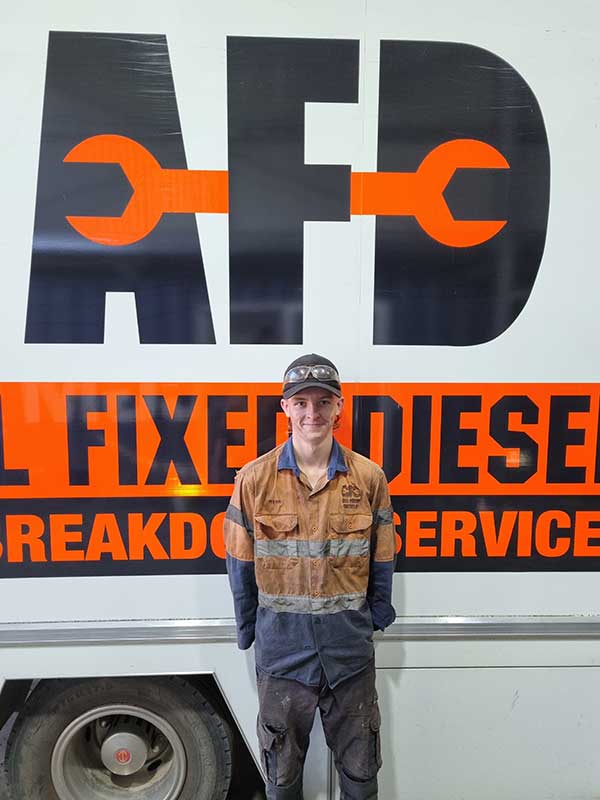 Diesel Mechanic Specialist Angus
Angus is a qualified mechanic with 10 years' experience in the automotive industry. He joined All Fixed Diesels in 2019 and has progressed into a management role during this time.
His flair for thinking on his feet makes him invaluable for brainstorming and organising  solutions for our clients.
Angus loves the constant, daily maneuvering of work roles and plans. This flow of work keeps Angus busy which also helps make the days go faster.
What do you love about being a diesel mechanic & working in the industry:
"Getting big machines working again from being in the diesel auto workshop to being onsite, whether it is pushing dirt, or carting it."
Upskilling Pursuits
Angus is currently undertaking courses to extend his heavy diesel mechanical knowledge.
Hobbies / Interests:
Angus loves the outdoors. You can often find him:
Skydiving
Rock climbing
Gardening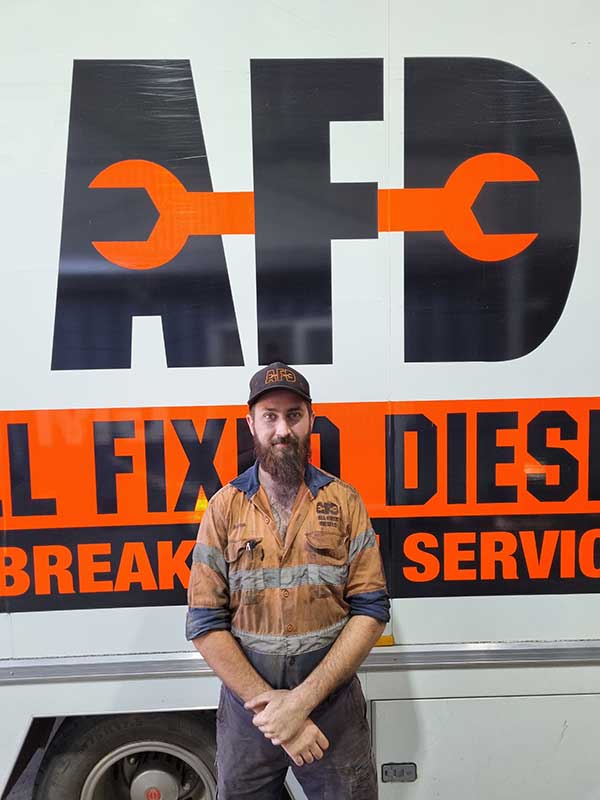 Specialist Diesel Mechanic James
James is a heavy diesel mechanic on the Sunshine Coast who started his career in 2017 with the Australian Defence Force before joining All Fixed Diesels in 2021.
He is working on gaining as much post trade exposure as he possibly can to diversify himself within the industry.
James loves the satisfaction of completing and repairing equipment and finds this what keeps him motivated.
Hobbies / Interests
Motorbikes
Camping
Fishing
4×4 driving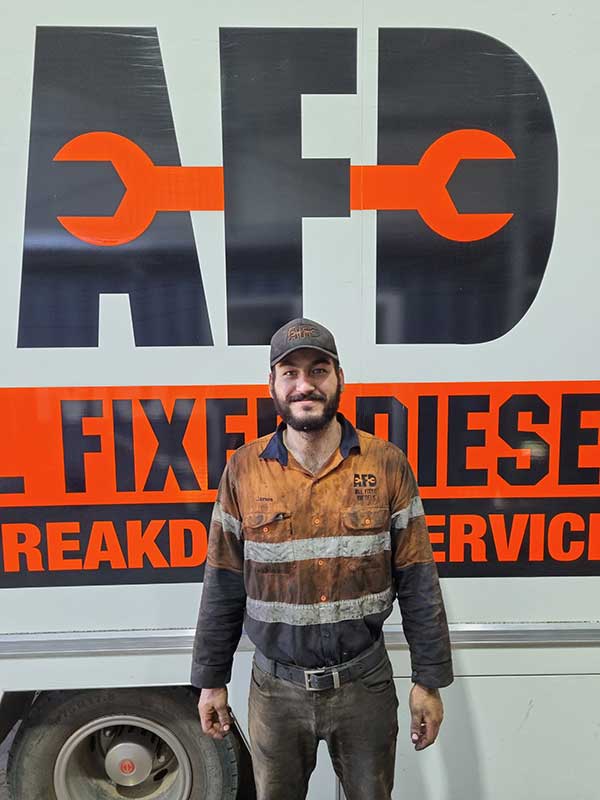 Heavy Diesel Specialist Jack
Jack is a heavy diesel specialist who started his career in 2017 at the Freightliner truck dealership, moving on to Mercedes Benz and Fuso dealerships, before joining the All Fixed Diesels crew in 2020.
He is working on gaining some factory training as well as certificate 4 courses in electrical diagnostic and hydraulic systems.
Jack loves the consistent challenges that come with being a diesel fitter/mechanic and the satisfaction of the successful completion of each job.
Hobbies / Interests
4×4 driving
Camping
Gun range / shooting
And kicking back with a nice cold beer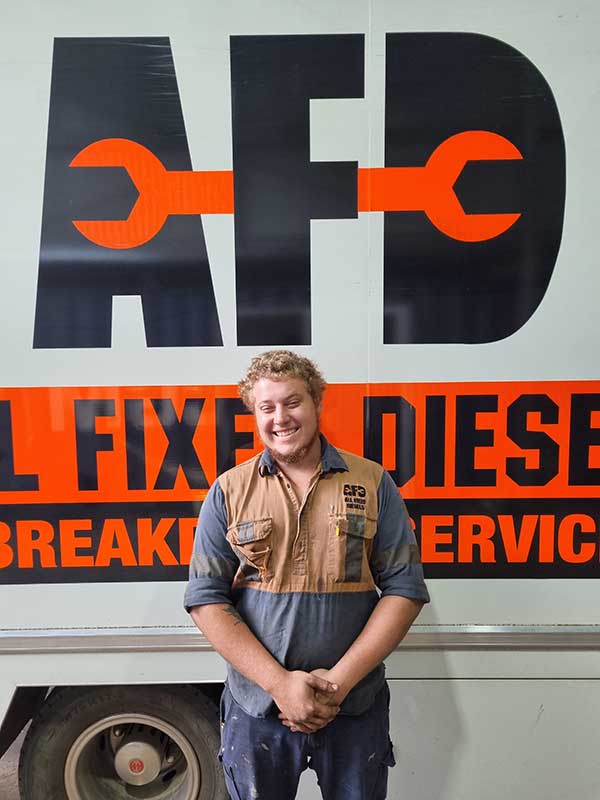 Reliable Maintenance and Emergency Fleet / Truck Breakdown Services
For heavy diesel machinery maintenance, or diesel equipment and vehicle repairs or inspections, call the All Fixed diesel service technicians. Diesel DPF, EGR and Turbocharger and fuel system cleaning services are now available as well.